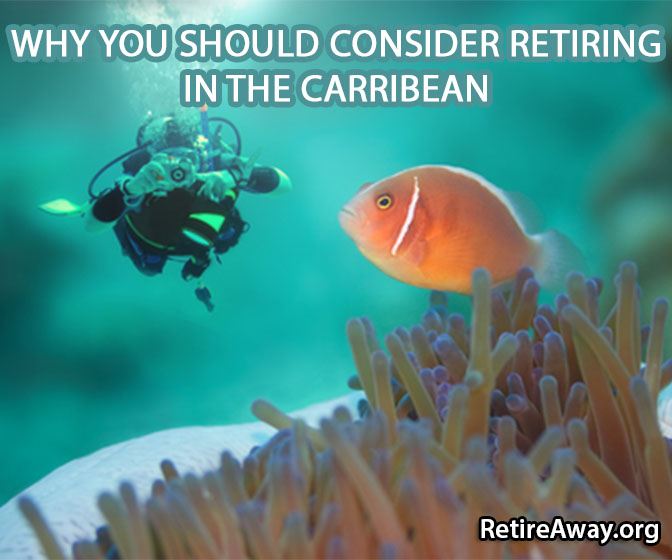 By Kate Johnson
If you are planning your future retirement and you know that you want to move away but are not sure where, then you may want to consider retiring in the Caribbean. The Caribbean is located south-east of North America and the Gulf of Mexico and north of South America, consisting of the Caribbean sea and the Caribbean islands. The Caribbean islands include Anguilla, Antigua and Barbuda, the Bahamas, Barbados, the British Virgin Islands, the Cayman Islands, Cuba, Dominica, Grenada, Guadeloupe, Hispaniola, Jamaica, Martinique, Monsterrat, Netherland Antilles, Puerto Rico, St. Barthelemy, St. Kitts and Nevis, St. Lucia, St. Martin, St. Vincent and Grenadines, Trinidad and Tobago, Turks and Caicos, and finally the Virgin Islands. The Caribbean island region has a tropical climate, making it both a popular vacation and retirement destinations. There are many great reasons why you should consider retiring in the Caribbean. It is a beautiful place with something for everyone to do. The Caribbean is also a great place to live because the islands are tax-free. The weather is warm all year round and if you are a person who enjoys rainstorms you might even get to see a tropical storm while you are there. No matter what your preference is, the Caribbean has something to offer for everybody.


Experience Something New

The first great reason to retire in the Caribbean is for the amazing scenery. All of these islands are surrounded by beaches and oceans and even forests and mountains, along with beautiful views of the skyline. The weather is warm year-round so you will no longer have to worry about harsh winters and snow-shoveling. In the Caribbean, the sun is shining all day long and welcomes everyone to participate in outdoor activities. The Caribbean offers many great activities that you wouldn't normally do on an every-day basis while living in the United States. Depending on what island you go to you can experience riding a zip-wire, you can go hiking above the clouds on a high mountain, you can help paint a mural, go turtle-watching, dive with the sharks, see a volcano, explore caves, and even go on a submarine tour. If you are not into physical activity you can simply lay on a beach and enjoy the sun all day, ride on a sailboat, go whale-watching, or try out a new food or drink. One great aspect of all of the activities to do whether they are vigorous or relaxing is that in the Caribbean is that you have the opportunity to meet new friends and experience new adventures. Each island is unique in its selection of activities. Since there are many locations within the Caribbean to choose from it is best to research each island to figure out which one is the best place for you.


A Simple Cost of Living

The cost of living in the Caribbean also depends on the island you go to. For instance, the taxes in Bermuda are low but you'll make up on the price you'll pay for imported goods. Bermuda has a restriction on how many cars are allowed on the roads to prevent congestion although it is not hard to get from place to place. Many people find that having scooters instead of cars will be a cheaper, easier option. Even though a new scooter costs about $3,000, you'll save big on gas. Like Bermuda, the Cayman Islands also has no taxes so you will be able to afford more. Depending on the location within the Cayman Islands, a one bedroom apartment can cost anywhere between $700 to $2,500, much similar to the costs of living in the United States. Every island will come off as more expensive than the United States but the good news is that all of the islands are tax free. This means you will save money and will be able to afford resources that are more expensive. There are also some health benefits to living in the Caribbean. The Caribbean is known for its vast array of healthy produce which is easier to come across than junk food. It is harder to find franchise companies like McDonalds and Wendy's in the Caribbean so you will not have to worry about being tempted to have unhealthy eating habits.


Summary

The Caribbean is a great place to retire. You can relax and finally reward yourself for all of your years of hard work by experiencing new activities and making new friends. Your family will also be envious of your move but that will give them a great reason to come visit. There are many great activities to do in the Caribbean that you will find yourself unable to experience in the United States. The cost of living in the Caribbean is also simple and inexpensive. Although the prices of some goods are a little higher than usual, the island is tax-free so you will have more money to spend. If you are planning to retire soon or have just recently retired and you are not sure what to do next, consider checking out the Caribbean for your next destination.