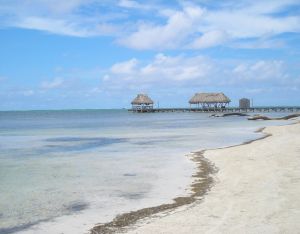 By Kate Johnson
Retirement is something that most of us will face at some point in our lives. Although retirement may seem scary to some, many people look forward to retiring so they can enjoy the last part of their lives. Most people who retire use their free time to visit family, go on vacations, or even continue their education. However, retiring is not as easy at it sounds. Retirement requires extensive planning and depends on factors such as financial stability, health, family responsibilities, and the timing of their partner's retirement. Ideally, many people work for their entire lives hoping to retire in a warm tropical environment. Since retirees depend on social security as their only source of income, moving to a new country can be challenging. However, it can be done. This article will focus on the country of Belize and will explain how to retire there on social security.


Why Belize


Belize is a great country to pick for retirement. Not only is it a beautiful place but there are many other benefits. It is located on the east coast of Central America, calling for warm weather year round. Non-citizens or non-residents can own property in Belize. There aren't any capital gain taxes, inheritance taxes or inheritance taxes and property taxes are low. The official language of Belize is English so you will not have to worry about learning a new language just to get by. However, Spanish is the second language so if you know Spanish then you will have an advantage. The process to purchase property is Belize is also very simple and headache free. It only takes between 30 and 90 days to complete a purchase. Belize is also known for having a great culture. Many people engage in outdoor activities such as diving or exploring caves although there are more elderly-friendly activities such as bird-watching and fishing. Belize has a low cost of living and a slow-paced lifestyle which makes it the ideal location for retirement.


The Belize Retirement Incentives Program


It is possible to retire in Belize on social security because of the Belize Retirement Incentives Program. Anyone who is older than 45 can qualify for this program. There are other factors that you must meet in order to be qualified as well. You must not have a monthly income of no less than $2,000 generated by a pension or annuity from the United States or from social security. Applicants must undergo a background check. In order to apply you will need to present your birth certificate, marriage certificate (if applicable), an authentic police record to establish your residency, your passport, proof of income, and proof of medical examination. Those who are selected for the program can immediately begin to take advantage of the program's incentives. It will not cost members any money to import their belongings including their car or boat for up to one year. They will also be exempt from paying taxes on all income that comes from sources outside of Belize. However if they chose to sell their belongings or methods of transportation they must still pay taxes. If you want to apply to the Belize Retirement Incentives Program you will need to pay a non-refundable application fee of $150. Once you are accepted into the program you must pay a $1,000 program fee to the Belize Tourism Board. You must also pay $200 for a Qualified Retired Person Residency card. If you chose to bring any dependents with you, including your spouse or children under 18 there is a $750 fee for each dependent.


How to Save on Social Security


Although the Belize Retirement Incentives Program has hefty fees it is still a great deal especially if you want to retire to Belize on social security. You can stay in Belize with a valid passport for up to one month but if you want to stay for 6 months you will have to pay a fee of $25 per month, which adds up to $150, the same price for the application. After six months it will cost $50 per month. You can apply for residency in Belize after staying there for a year, which will cost you a grant total of $450 if you stay there without being a part of the program. By entering the Belize Retirement Incentives Program you can be granted automatic residency while saving your money.


Housing Options


Finally, if you are not comfortable owning your own property in Belize there are many retirement communities that you can join. These communities can help retirees become more involved in a social life and feel more at home. These communities are not like the stereotypical ones where the residents there are miserable. These communities are in great locations with beautiful scenery and offer safe and private neighborhoods. Instead of having to live in one building, retirees have the option to live in single family homes, giving them much more freedom and comfort. Retirees will have access to banking services, car dealerships, hospitals, insurance companies, and much more.


Conclusion


Retiring requires extensive planning, especially if you want to retire to another country. The Belize Retirement Incentives Program alone shows how much planning is needed for its application process. Then you will have to plan where you want to live and what things you will want to bring with you. Retirement can be especially tricky if you are living off of social security. However, it is possible to retire to Belize on social security because of the Belize Retirement Incentives Program which saves retirees more money than imaginable. If the time is approaching for your retirement and you are interested in retiring to a far away, warm country, consider Belize. It is affordable, beautiful, relaxing, and easy.